Face Shields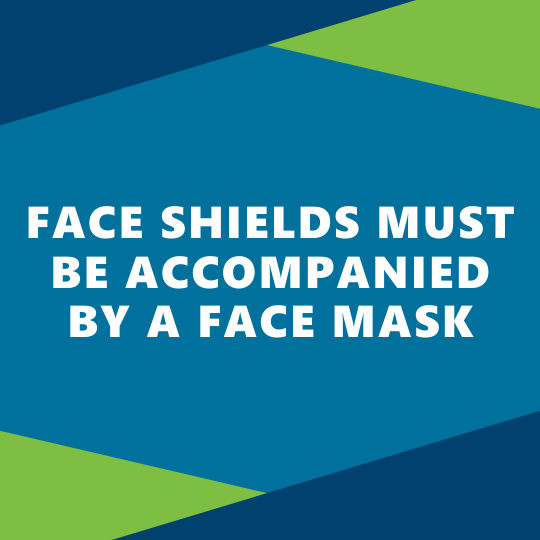 Face shields must be accompanied by a face mask
Face shields are primarily used for eye protection for the person wearing it. At this time, it is not known what level of protection a face shield provides to people nearby from the spray of respiratory droplets from the wearer. There is currently not enough evidence to support the effectiveness of face shields for source control. Therefore, CDC does not currently recommend the use of face shields as a substitute for masks.
To help protect the health and safety of our community, LifeSource is requiring that customers and team members wear masks at all times 
This requirement does not apply to children under the age of 2 or to individuals who are unable to wear a mask or face covering due to a medical condition.
This decision was made with the recommendations from the Centers for Disease Control and Prevention as well as our local government in mind. After conducting our own research into the benefits of wearing a mask, we believe it's in our community's best interest to protect one another by covering our mouth and nose while in public.
Please continue to social distance and use alternative methods to shop when available, including online shopping with free curbside pickup or using our contactless delivery service.
We understand how uncomfortable and inconvenient this change may be, however we felt it was the right thing to do when reviewing all the information available to us.
If you have questions or concerns, please direct them to info@lifesourcenaturalfoods.com. 
Please refrain from directing any comments to our staff on the floor, since they are also adjusting to this new change as well. 
Thank you for your cooperation, patience and compassion as we continue to navigate this rapidly evolving and challenging situation.
Recommended Studies 
Important COVID-19 Update: Thank you for your patience while we navigate these difficult times, which are causing us to change our business practices everyday. Click the button below to read important COVID-19 information. Read more.
Coronavirus Pandemic Updates