Ingredients:
Dough
Filling
Frosting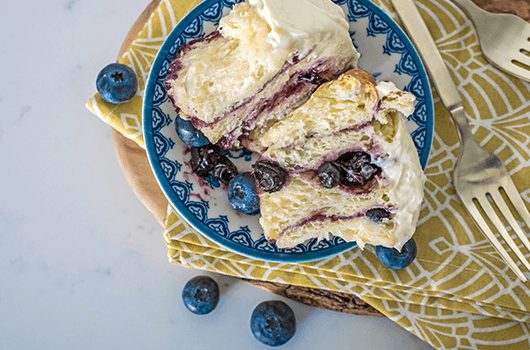 Instructions:
Dough: Whisk together unbleached wheat flour, ¼ cup cane sugar, yeast, and salt.
In a small saucepan, heat buttermilk and butter until butter is melted, and mixture is warm to the touch– about 110°F.
Stir buttermilk mixture into flour mixture until combined. Stir in beaten egg. A soft dough will form.
Turn dough out onto a floured surface and knead for 3 minutes. Return to bowl and cover loosely. Allow to rest 10 minutes.
Filling: In a small bowl, whisk together cornstarch and water. In a small saucepan combine blueberries, cane sugar, lemon juice, and cornstarch mixture. Cook and stir over medium heat until thickened and bubbly. Mash berries slightly with the back of the spoon.
Generously grease a pie pan with butter.
After dough has rested, turn it out onto a lightly floured surface and roll into a roughly 10-inch by 14 inch rectangle. Spread with room temperature butter and blueberry mixture. Roll up as tightly as possible (It's a challenge as the filling tends to wander.) With a sharp knife, slice into around 12 rolls.
Place rolls in prepared pie pan, and cover tightly with plastic wrap. Allow to rise in a warm draft free place until doubled, about one hour to 90 minutes. (Ours rose for 90 minutes).
Preheat oven to 375°F. Remove plastic wrap and bake for 25 minutes, or until rolls are golden brown and filling is bubbly.
Frosting: With a hand mixer, mix together cream cheese, sugar, and lemon juice. Spread over cooled sweet rolls.
See more great LifeSource Kitchen-Tested Recipes!