Refreshing Infused Water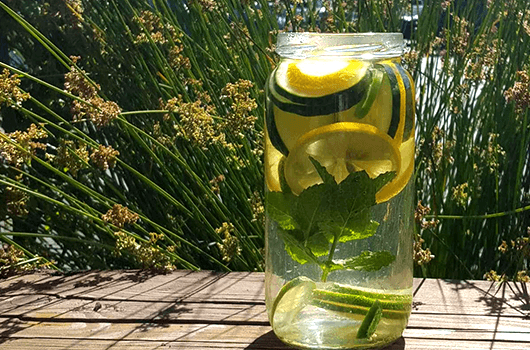 Make your own Spa Water!
Infused water makes a refreshing and enticing beverage to keep you hydrated.
In our busy lives, we too often neglect some health basics, like drinking enough water. Here is a way to entice your taste buds, so you remember to drink enough water for proper hydration. 
We know hydration is important on hot summer days, but sometimes plain water is not enough to entice us to drink the right quantity. Use this idea for herb-infused water to keep your taste buds excited, and yourself hydrated.
Enhance your drinking water with the addition of a few organic flavors. Combine generous slices of jalapeño, lemon, lime, mint, and cucumber with your filtered water in a glass or a pitcher. Allow the mixture to rest a little while for the flavors to mingle, then enjoy!  Keep refilling the vessel until the flavors are exhausted, and keep drinking more water so you are well hydrated!
Unlike a sun-brewed tea, or sports drinks, infused water contains no caffeine or sugars. Pure water, and pure flavors mean pure hydration at a time when hydration is vital to your health, and the function of your body.
Play around with flavor combinations to keep the taste interesting, using ripe summer fruits like strawberry or blueberry. 
Go wild with chili, jalapeno and mini bell peppers to add sizzle to the flavor.
Get creative with squash blossoms, nasturtium, or lillies to both garnish and infuse flavor, while adding that colorful gourmet touch to your beverages. (Pro-tip! Use a clear jar so your friends marvel at your creative 'floral arrangement.')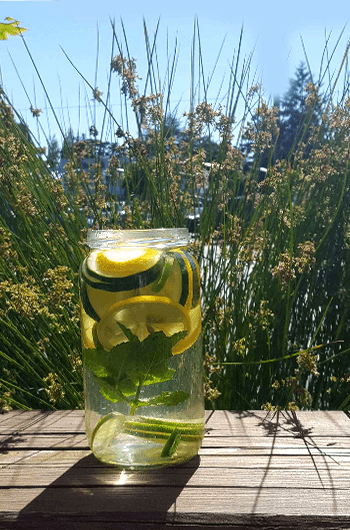 Sun dried tomatoes, ginger root, and shreds of red cabbage will have your friends asking for your recipe, and about your well-being. Including whole sprigs of fresh aromatic herbs, like mint, rosemary, oregano, or thyme will remind you of brining a turkey, and colorful fall leaves.
Here is the solution to all that late season zucchini we find growing in our gardens! Use a veggie noodle maker to create a pile of zucchini shreds, pour in a shot of hot sauce, ketchup, and some shredded carrots to top it off. Voila! You have a beverage, and a meal!
These and more creative ideas are available in your very own garden, refrigerator, or the fresh produce aisles at LifeSource. Stop in to ask us for suggestions, and smile as you radiate freshness and optimum hydration!
Share your own ideas for yummy infused spa-waters, we would love to see your photographs and hear your hydration stories as well!