Meet Your Local Farmer: Meadow Grove Eggs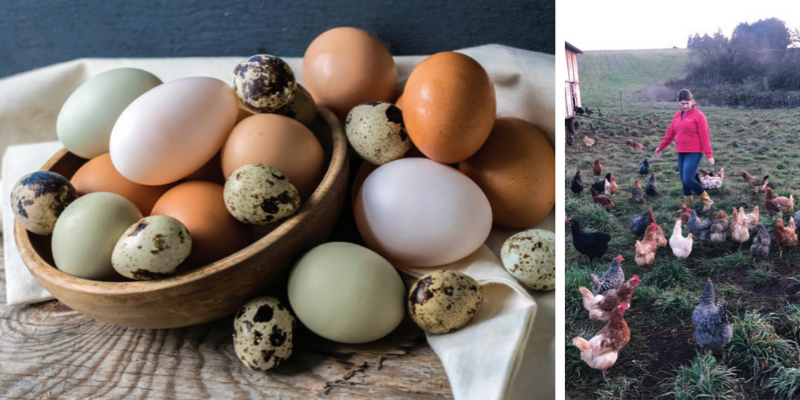 It all started with a few chickens and an old dog kennel as a makeshift chicken coop. Before long, after another few trips to the local feed store, our large pasture housed 160 chickens in a mobile chicken coop. Soon, we added another 60 ducks to our growing flock and started giving the surplus eggs to our friends and neighbors. My obsession with chicken breeds grew, and our flock of birds and fleet of coops grew to match it.
Farming has been in our family's blood for generations, and animal welfare is one of our core values. From the beginning, our flock has been Pasture-Raised Free-Range. Every day, from sunup to sundown, our ducks and chickens roam freely outside in large pastures, and every night, they come home to roost in their large, mobile coops. Whether, rain, sun, or snow, our birds are out in the pasture, enjoying a healthy diet of bugs, worms, grass, and fresh water. We also feed them a grain supplement that is Corn, Soy, and GMO Free.
In June of 2018, my once-small obsession blossomed into a full-fledged family business, and Meadow Grove Eggs was born. Meadow Grove Eggs received licensing from the State of Oregon, and our brand solidified when our egg carton labels were approved. An egg room was built to store, wash, candle, and package the many eggs laid each day. Our birds produce high-quality eggs with a dark yellow-orange yolk encased in a thick egg white. Our eggs are healthier, tastier, and more attractive, which keeps our customers asking for more.
Meadow Grove Eggs continues to be a local, small, family business on the outskirts of Salem, still growing a few birds at a time. We have been in business for just over a year, and our flock has already grown to almost 1000 chickens and around 200 ducks. More mobile coops have sprung up, and the once hay-ground hillside is now speckled with chickens of every color and breed.