Ingredients: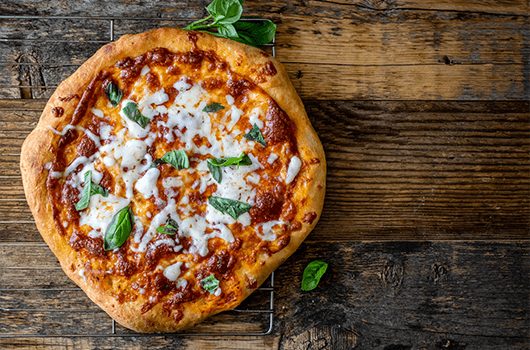 Instructions:
Make the Dough: In a large mixing bowl, whisk together flour, rosemary, yeast, and kosher salt. Stir in olive oil and warm water. A shaggy dough will form.

Turn dough out onto a floured surface. Knead for 3-4 minutes, until the dough becomes smooth and elastic. Add a little more flour to your hands and surface if it begins to stick.

Oil your mixing bowl. Place dough back into the bowl, and brush with a little more oil. Cover bowl with plastic wrap or a clean kitchen towel. Allow to rise for 60-90 minutes, or until doubled in size in a warm, draft free area.

Roast the Garlic: While the dough is rising, preheat the oven to 400°F. Peel the papery outer layer off of the garlic heads, and slice off ¼-½ inch off the top, so all of the cloves are exposed. Brush exposed cloves with a little more olive oil. Wrap in foil, and bake in a shallow baking dish for 30-40 minutes. 

Once garlic is cool enough to handle, squeeze cloves from their skins, or remove with a small fork. Chop and set aside.

Make the Pizza: Preheat the oven to 475°F. Lightly oil a large rimmed baking sheet.

Punch down the dough to remove the air bubbles. Divide in half. 

Using lightly floured hands, form one half into a 12-in circle. Carefully move it to your prepared sheet pan. If there are any thin spots or holes, pinch them together with your fingers. Flatten any extra thick spots as well.

Brush your crust with more olive oil. Sprinkle on half the roasted garlic. Spoon on half of the pizza sauce, spreading it evenly. Leave a 1-inch border for the crust. Sprinkle on half of the cheese.

Bake pizza for 12-15 minutes, or until the crust is golden and cheese is bubbly. Sprinkle with torn fresh basil leaves. Serve hot.

Repeat steps 8-10 for the second pizza.
Makes 2 12-inch pizzas
More LifeSource Kitchen-Tested Recipes