Most meatloaf recipes call for oats or another grain to hold the loaf together. This Paleo Meat Loaf recipe uses almond crackers, or almond flour instead. This grain-free, paleo-diet-friendly meat loaf may be slightly more crumbly, but you will still love the texture, and flavor!
Ingredients:
1 Tbsp olive oil

1 small onion, chopped

3 cloves garlic, minced

2 lbs grass fed ground beef, 80% lean

1 cup Simple Mills almond flour crackers, crushed into crumbs (or almond flour)

2 eggs

½ cup Primal Kitchen Ketchup

1 Tbsp horseradish

2 tsp smoked paprika

2 tsp Italian seasoning

1 tsp salt

1 tsp pepper

½ tsp cayenne (optional)
Instructions:
Preheat the oven to 350°F. 

In a medium skillet, heat olive oil over medium heat. Sauté onion until translucent. Add garlic, cook until fragrant. 

In a large mixing bowl, combine all ingredients with your hands until completely mixed. Form into a loaf, place in a baking dish.

Bake meatloaf about 1 hour, or until internal temperature reaches 165°F. Allow to rest at least 10 minutes before slicing.

Slice and serve your Paleo Meat Loaf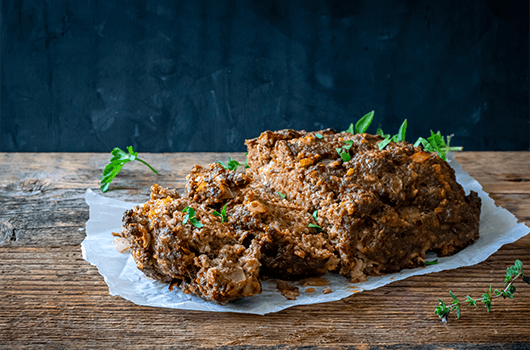 Meatloaf weather in the valley? 
Meatloaf weather at the coast?
See more great LifeSource Kitchen-Tested Recipes!