Trees For The Community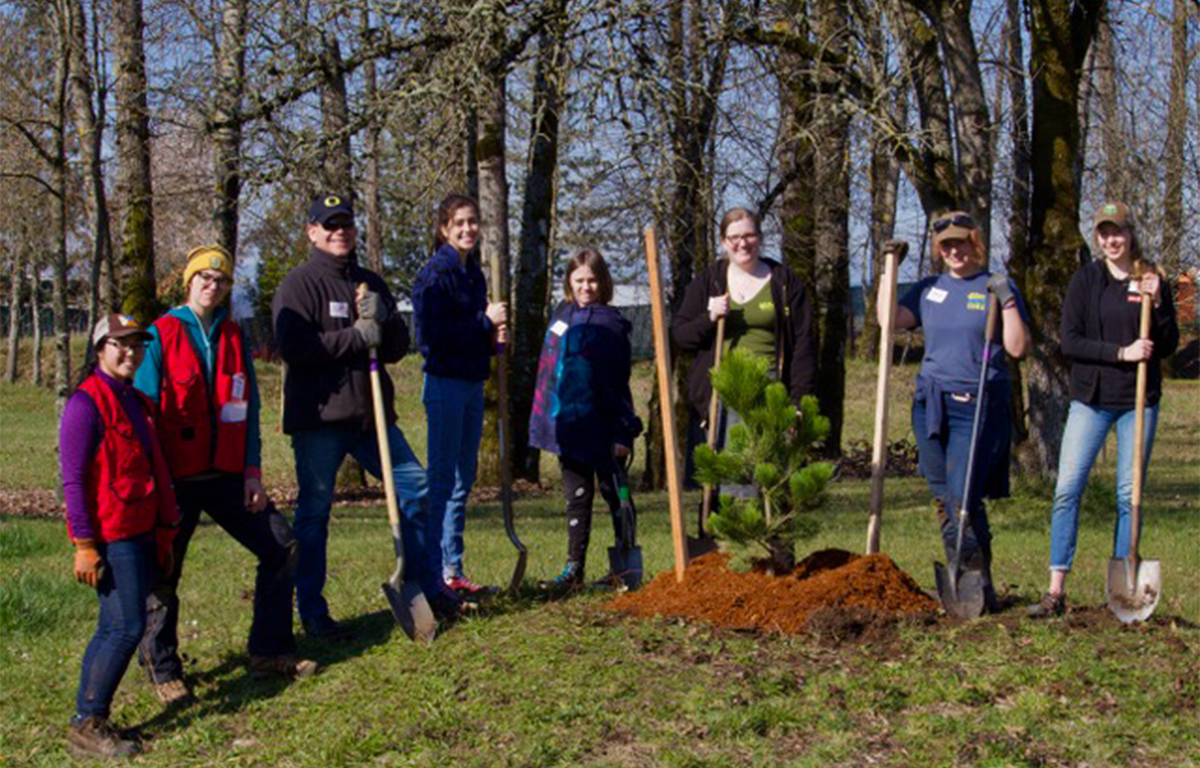 LifeSource People Volunteering in Salem
LifeSource staff, family, and friends are active volunteering in the community. In addition to community donations, we spend time together working for the enjoyment of all people of the Salem area. During this tree planting event, we worked with Friends of Trees to plant over 40 trees in beautiful Cascades Gateway Park.
Giving this sapling a head start with a bucket of rich soil, and clean water.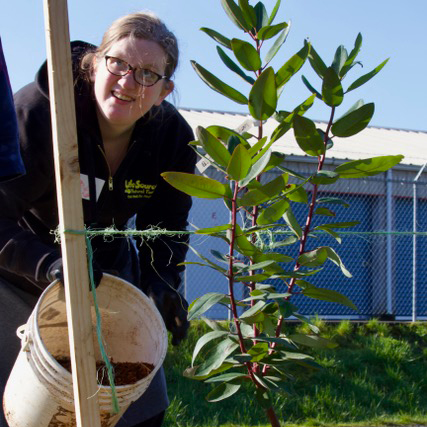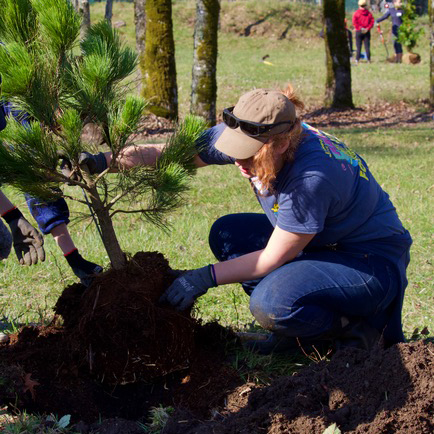 Easing this sapling's root ball into it's new home, we hope it provides shade and enjoyment for many future generations.
Sturdy support so this sapling survives Willamette valley winds and weather.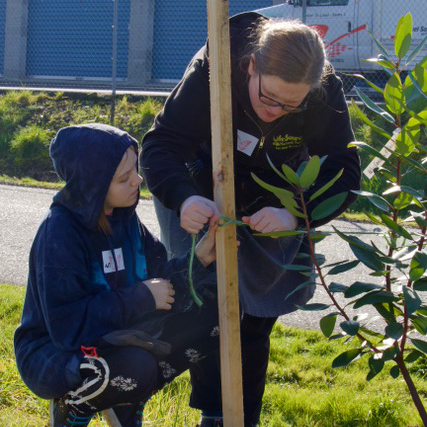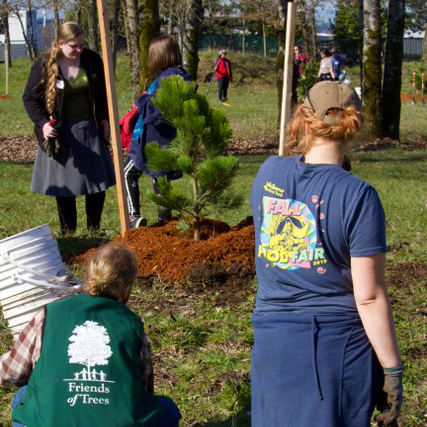 It was a perfect, late February day, sunny, yet cool enough for digging, hauling, planting, and surveying the great work.
It was great to be a part of a large group of like-minded volunteers from the Salem community.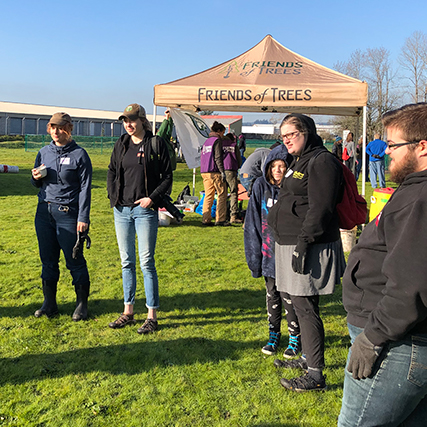 Dear Tree Friends,
Thank you so much for your hard work this past Saturday! Sunshine and smiles had everyone in great spirits as you tackled 41 trees to be planted before 1pm. On top of the trees that were placed in the ground, you also helped spread 8 cubic yards of mulch around the previoously planted trees at this Park as well. Now Cascades Gateway is feeling the love by new critters in the area and of course park goers too. In just a few short hours you all contributed so much to this park we can't thank you enough. 
Your Feedback ==> Prizes: At Friends of Trees, we strive to provide programs and events that inspire, educate, and engage. We would greatly appreciate 2-4 minutes of your time to complete our Volunteer Feedback Form. Your anonymous feedback helps us understand your personal experience at this event and find ways to better serve the communities we work with. To show our appreciation, after you submit the survey you will have an option to provide your contact information and be entered for a prize drawing at the end of this month!
 A few photos have been uploaded to our Flickr Account…check it out–you might see yourself! Got a great photo you'd like to share? Send me your photos and I will have them added to our collection and give credit to you as a photographer!
   Sunshine and volunteers make a great COMBO! 
STAY INVOLVED!
Volunteer with us again: We are hosting several more weekends of planting events and tree care work parties through May. For information on all of our community events, please check out our online calendar. We welcome individuals and groups of almost any size at almost every planting – if you have a planting posse of 5 or more, learn how to sign up your group HERE.
Expand Your Social Tree Canopy with #FriendsofTrees: If you have a moment, please "Like" and "Follow" us on Facebook or Instagram to keep in touch! Humble bragging and sharing about your #FriendsOfTrees volunteer work are encouraged
If you have any questions or would like more information, please don't hesitate to get in touch with me or my teammates in the Volunteer & Outreach Program at 503-595-0213 // Volunteer@friendsoftrees.org. Thanks again for being a part of our efforts to create greener, healthier communities while representing Friends of Trees in such a big way!
Sincerely, 
Pablo and the rest of the tree team 
Pablo Brito 
My pronouns are He/Him/His
Volunteer & Outreach Specialist
(503) 467-2527
 GET YOUR HANDS DIRTY, MAKE YOUR COMMUNITY HEALTHIER.
Volunteer at a community tree-planting event …  friendsoftrees.org/volunteer
Volunteer with us! Friendsoftrees.org/volunteer
Keep in touch through Facebook: Facebook.com/FriendsofTrees
Our world in photos:  Instagram.com/friendsoftrees
Tweet tweet? Twitter.com/FriendsofTrees