The Earthy Fruits of Fall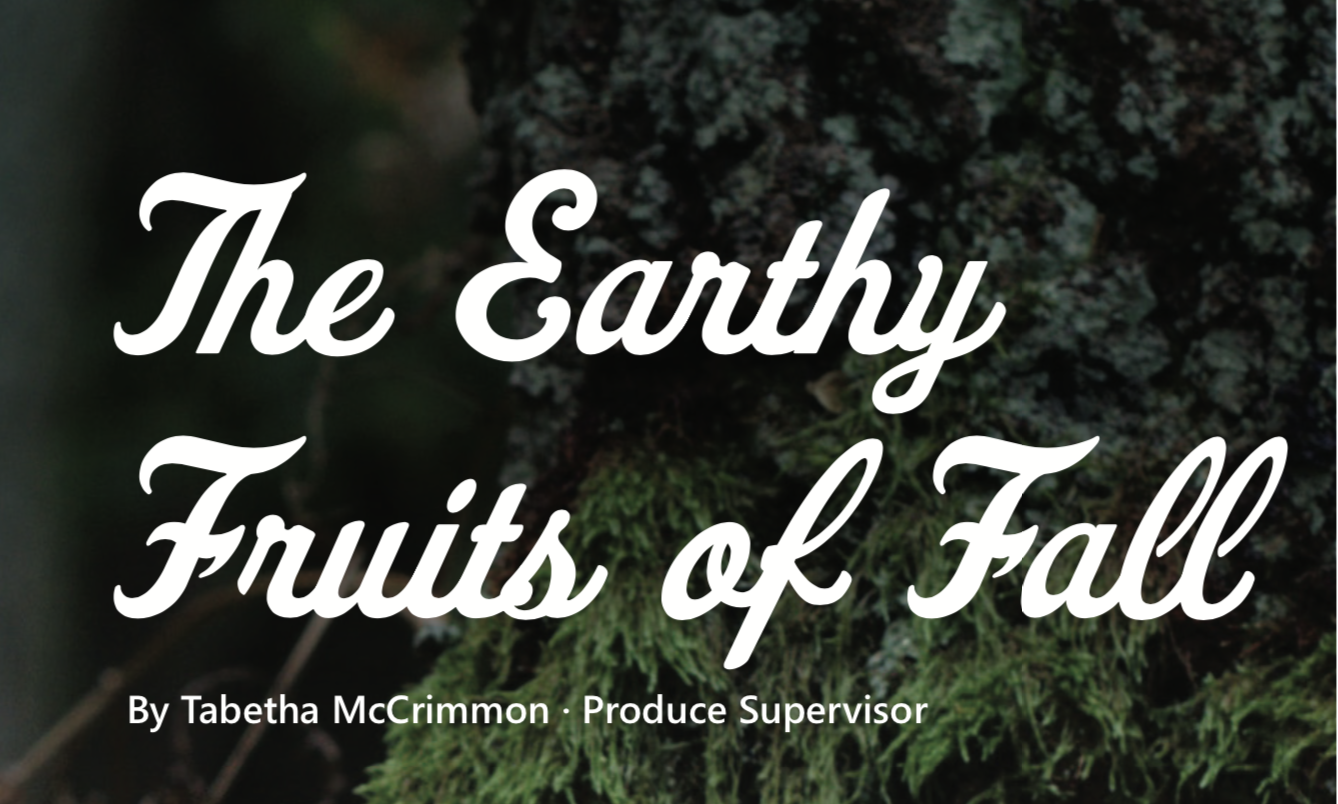 The world's biggest living organism is hiding in the forests of Southeast Oregon. This spectacular example of Armillaria ostoyae covers 2,400 acres (about 4 square miles) of the Malheur National Forest. It grew to this immensity in just a few thousand years. Each fall it reveals its edible fruiting bodies – mushrooms – as it slowly takes over the world! This Humongous Fungus isn't alone in our beautiful state: a cornucopia of other edible mushrooms inhabits our forests. If you're not able
to trek the land for delectable fungi, LifeSource is proud to carry a few wild- harvested mushrooms for you to enjoy!
Chanterelle
Season and Habitat: September to around February.
These golden trumpets shine around cedar growth. They maintain a healthy symbiotic relationship with the roots of conifer trees, particularly Douglas-fir, Sitka spruce and western hemlock. You can also find them nestled around ferns. Remember where you find them, as these fruiting bodies return year after year! Tasting Notes: Fruity aroma when raw with notes of apricot and peach. When cooked, they have a velvety consistency while maintaining their shape, even when baking. Their flavor has been described as woodsy with hints of mild pepper. Like many mushrooms, chanterelles can contain a lot of moisture, and can benefit from dry-sautéing to concentrate their flavor. Clean and slice the mushrooms, and cook them in a dry skillet at high heat, stirring constantly, until they give off liquid. Keep cooking and stirring until their liquid has evaporated, then turn down the heat and add your cooking oil or butter.
Chanterelles with Chestnuts and Wine
Serves 4 as a side dish
Ingredients
3 Tbsp butter
1 lb Chanterelles, sliced
18 fresh chestnuts, boiled or roasted, peeled, shelled, and sliced
1/4 cup dry sherry
Dash of your favorite hot sauce
Salt and pepper to taste
Melt the butter in a large saucepan and cook the mushrooms for 10 minutes or until most of the liquid is released from them. Add the chestnuts and cook for 3 minutes. Add the dry sherry and hot sauce, and season with salt and pepper.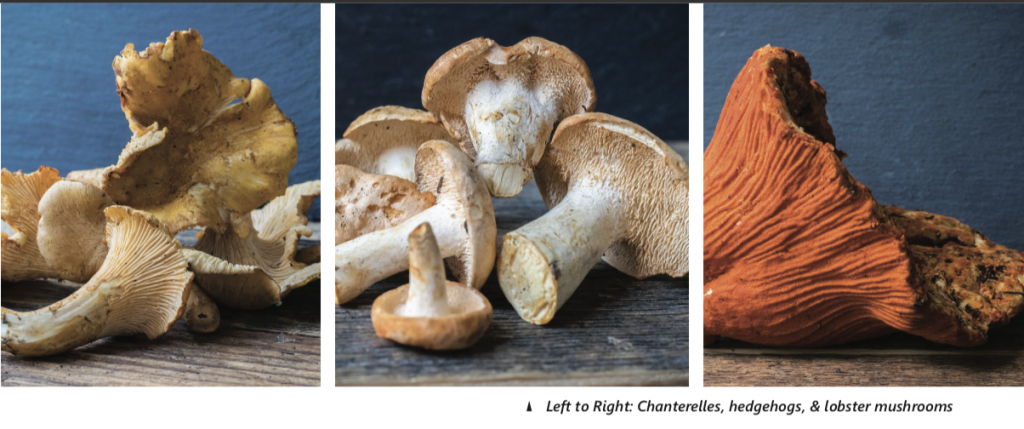 Hedgehog
Season and Habitat: October to March
You can easily identify these cute little fun-guys by their spiky teeth underneath, and an orange to beige top. You can find these near where you caught the chanterelles. They have such a great relationship with their neighboring plants and trees, they will return to the same places for years
if their mycelium isn't disturbed. 
Tasting Notes: Hedgehogs have a sweet and nutty flavor that is more meaty than a chanterelle. They are so hearty, they prefer to be baked or stewed but also preserve very well by dehydrating or freezing. Once their season is over, I often miss hedgehogs' tasty Northwest flavor, so last year I made a conserve with great success! This conserve can last up to a year if you can make it that long.
Hedgehog Conserve
Yields 1 quart canning jar
Ingredients
2 lbs small, young Hedgehog mushrooms
3 cloves of garlic, sliced thin
1/2 cup flavorless oil for sautéing, such as grapeseed oil
1/4 cup extra virgin olive oil
2 tsp kosher salt
1 cup water
1/4 cup + 1 tablespoon of your favorite white wine, champagne, or apple cider vinegar
2 tsp fresh chopped thyme
2 fresh bay leaves
In a wide pan with high sides, or a soup pot, gently heat the grapeseed oil and the sliced garlic until the garlic begins to turn golden.
Add the mushrooms, salt, and herbs, and allow the mushrooms to give up their juice and stop the garlic from getting too brown. Once the mushrooms have wilted and given up their juice, add the water, then bring the mixture to a boil.
 After the mixture comes to a boil, add the vinegar and flavored oil of your choice. Season the liquid to taste with salt to taste. 
Finally, put the conserve into a container and refrigerate. If not consuming immediately, make sure to put a weight or plastic wrap on top of the conserve to keep the mushrooms under the liquid, and prevent bacteria from harming them. Keeps for several weeks in the fridge.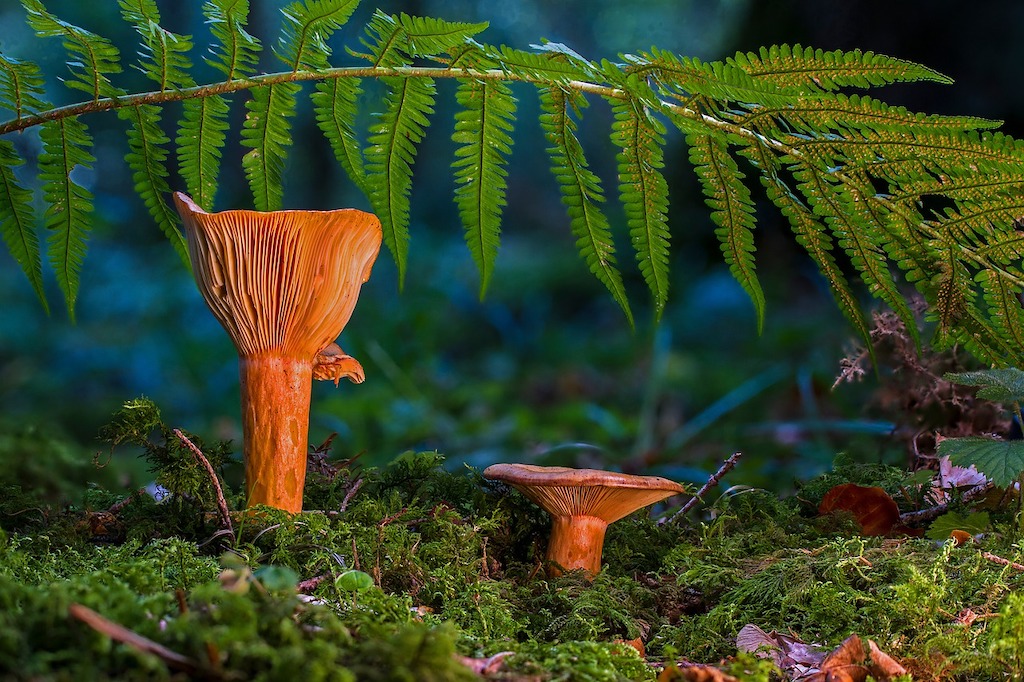 Lobster Mushroom
Season and Habitat: August to November
Its appearance and flavor is actually caused by a fungal infection, Hypomyces lactifluorum, growing on a Russula or Lactarius mushroom! These bright orange or red lumpy masses can be found under a wide variety of trees. Gregarious in nature, once you spot one lump, you're likely to find a second or third nearby.
Tasting Notes: Raw lobster mushroom's texture is granular and fragile, sometimes with a seafood smell. It's not called "lobster" just for it's color! Once cooked, it releases
a rich, juicy-sweet seafood flavor perfect for any lobster or crab dish out of season (or in season if you're just needing a mushroom fix!).
Lobster Mushroom Risotto
Ingredients
2 Tbsp butter
1/2 small onion or 2 shallots, minced
1 clove of garlic, minced
1-2 lobster mushrooms
1 cup Arborio rice
1/3 cup dry white wine
4 cups stock (chicken or vegetable)
1/3 cup chopped flat-leaf parsley
Zest from a small lemon, grated
Salt and pepper to taste
1 Tbsp butter
1/3 cup grated cheese (Parmesan or pecorino romano)
The veggies are up to you! Broccolini and asparagus pair well. I love local cherry tomatoes with wilted spinach. Watercress and beets are peppery with sweet fun, and make for a lovely pink hue too.
Place stock in a small pot and bring to a boil, reduce to low.
Melt butter in a 2-quart pot; add onion or shallot and cook until softened. Add garlic and cook until fragrant, 30 seconds or so, being careful not to burn the garlic.
Add the mushrooms and whatever vegetables you choose and cook a couple of minutes, stirring regularly.
Add rice and stir to coat the grains with the butter, cooking about 2 minutes. Add the wine and cook, stirring, until liquid evaporates.
Start adding a bit of stock, a 1/4 cup at a time, stirring well between each addition and waiting for the rice to absorb the liquid before adding more.
Add lemon zest (reserve a little zest
for garnish) and continue adding
stock slowly until rice grains are
nice and plump. Taste it and remove from heat when the rice is cooked through. Cooking time should be at least 20 minutes or more.
Add some salt and pepper, keeping in mind that the cheese at the end will add some salt.
When the risotto is cooked to your liking add 1 tablespoon butter, some of the parsley and the grated cheese and stir, allowing the butter and cheese to melt into the risotto (reserve a little parsley and cheese for garnish). Taste and correct the seasoning, adding salt and pepper if necessary. Let the risotto rest and settle for a couple of minutes, then scoop it into individual serving bowls and serve warm, sprinkled with the remaining parsley, grated cheese, and lemon zest.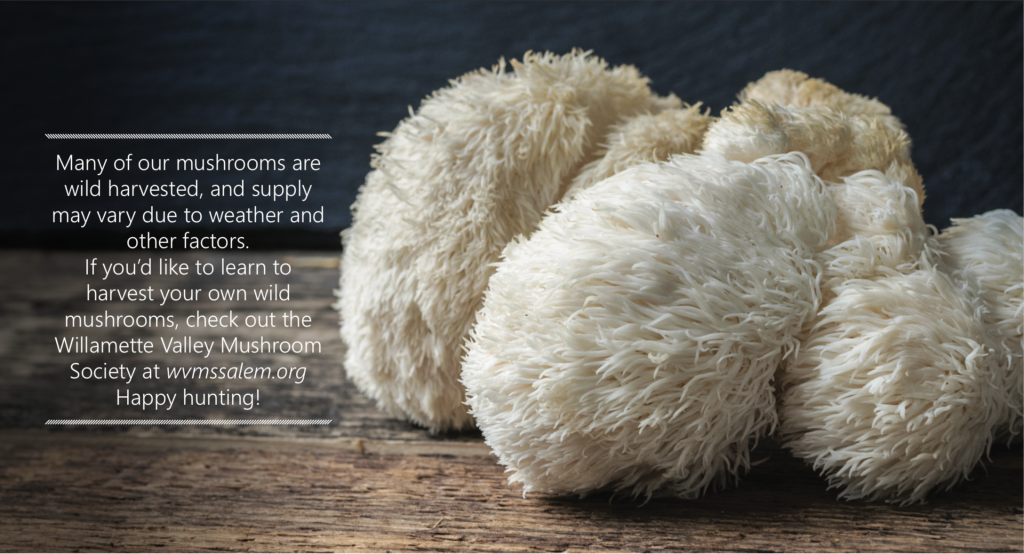 Season and Habitat: September to mid-March
Rejoice! The whole Hericium genus is edible and cannot be easily mistaken for another variety of mushroom. White to pale yellow with delicate icicle-like spines, lion's mane mushrooms grow on wounded—or sometimes dead— hardwoods like oak or hemlock.
Tasting Notes: They have a seafood-like flavor, somewhat like the taste of shrimp or lobster, but not overwhelmingly so. If you are allergic to shellfish, this is a great substitute. Lion's manes are said to have medicinal value as well! They are a brain booster and could help with hormonal balance. You could also dry these easily for They have a seafood-like flavor, somewhat like the taste of shrimp or lobster, but not overwhelmingly so. If you are allergic to shellfish, this is a great substitute. Lion's manes are said to have medicinal value as well! They are a brain booster and could help with hormonal balance. You could also dry these easily for
Lion's Mane Cakes
Ingredients
1/2 lb (about 2 pints) lion's mane mushroom
2 Tbsp extra virgin olive oil
2 cloves garlic
2 Tbsp Greek yogurt or Vegenaise
1 tsp tamari
1 cup breadcrumbs
1/4 cup diced onion
1 egg (you can easily make this recipe vegan by replacing this with a flaxseed "egg"*)
Splash of white or red wine vinegar
2-3 Tbsp fresh chopped parsley
1 tsp smoked paprika
Lemon juice from 1/2 lemon
3-4 Tbsp coconut oil (or alternative) for cooking the cakes
Salt and pepper to taste
For rémoulade
1/4 cup non- or low-fat organic
Greek yogurt or Vegenaise
2 Tbsp Dijon mustard
1 tsp smoked paprika
Juice of 1/4 lemon 
Preheat oven to 350°F. 
Chop lion's mane mushroom into large pieces. Toss with olive oil and garlic and roast in oven for 30-40 minutes, turning when halfway through. The mushrooms will shrink substantially as the water cooks out.
When ready, put mushroom and garlic mixture in food processor and pulse 4-5 times until mix is broken down in smaller chunks.
In a separate bowl whisk together the egg, tamari, Greek yogurt, lemon, parsley, salt, and pepper. Stir in breadcrumbs, onions, and pulsed mushroom mixture. 
Use an ice cream scoop or tablespoon (depending on the desired size of the cakes) to measure equal portions for the cakes. With your hands, form into cakes.
Heat coconut oil in non-stick pan on medium heat and fry until lightly browned on both sides.
Finish with a touch of sea salt.
Whisk together the ingredients for the rémoulade to use as a dipping sauce.
*A flaxseed "egg" is made by combining 1 Tbsp flaxseed meal with 2 1⁄2 Tbsp water and letting rest 5 minutes to thicken before using.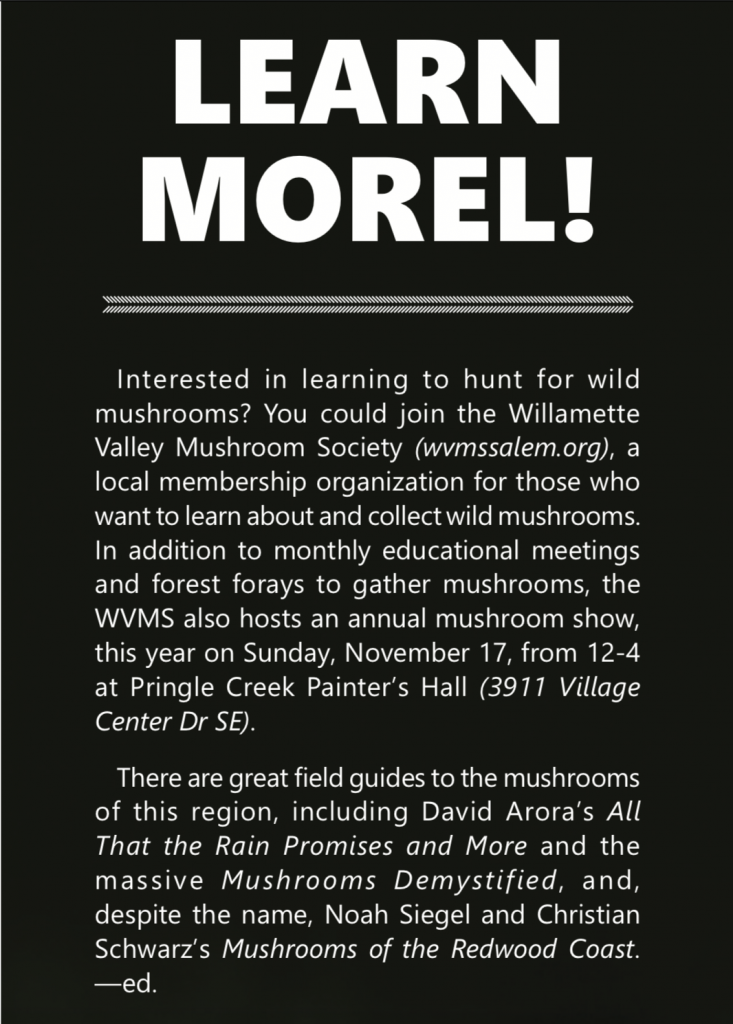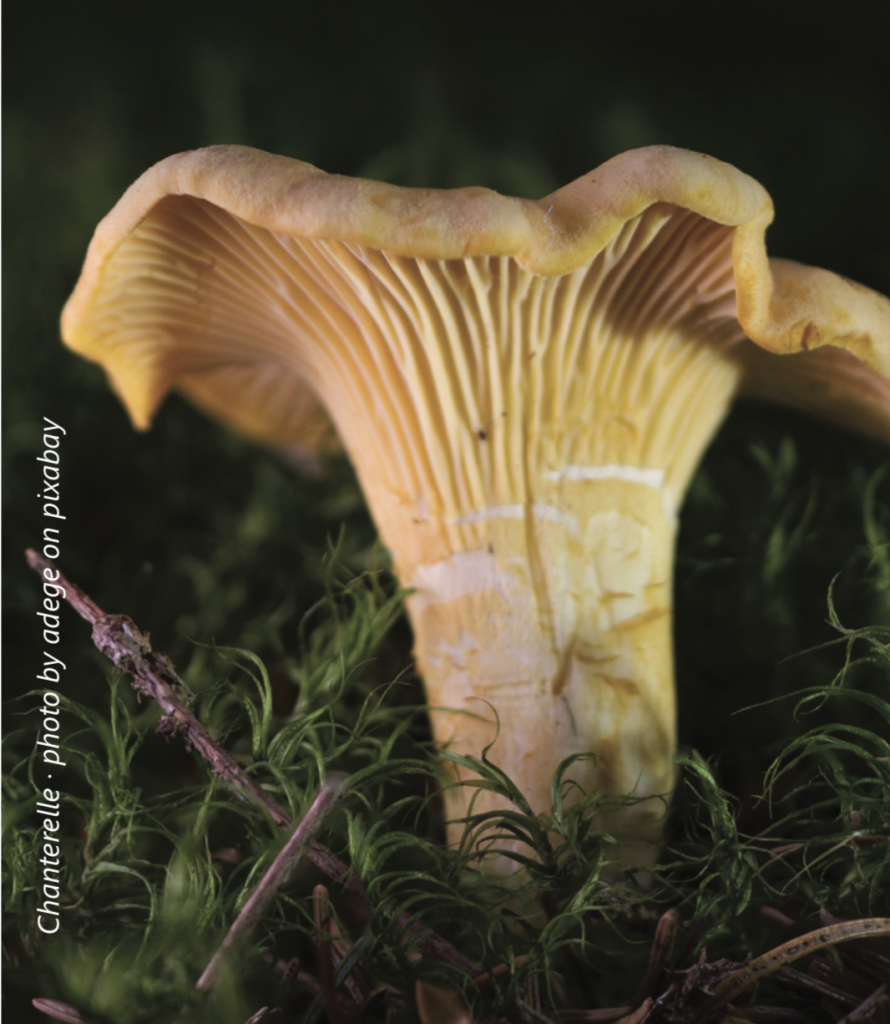 This article was taken from the Fall 2019 issue of our Free News In Natural Magazine.